All successful marketing begins with good data — because data drives personalisation, and personalisation drives conversion. 
Types of data
Personalisation strategies have traditionally looked at three types of data to work out interests and intents of consumers.
These three well known types of data are:
> First-party data is any information that is collected through a direct relationship with a consumer.
> Second-party data is data that users are not giving directly, but that brands are obtaining through a direct relationship with another business.
> Third-party data is implicit, often outdated, collected by an entity that doesn't have a direct relationship with consumers (for example cookies, browsing behaviour, credit score, …).
The problem is that a lot of it is based on inferred and observed data. And we know that assumptions are often wrong.
Another problem is data Privacy.  Following large data breaches governments introduced tighter regulations. We know The General Data Protection Regulation (GDPR) here in Europe and more recently the California Consumer Privacy Act (CCPA) this year.
Following these events Forrester introduced the term zero-party data defined as follows:
"Zero-party data is that which a customer intentionally and proactively shares with a brand. It can include purchase intentions, personal context and how the individual wants the brand to recognize her." – Forrester
Why is zero-party data hot?
As competition grows marketers face increasing pressure to deliver personal experiences to engage.
Zero-party data is considered the most accurate customer data to deliver personalisation at scale because it reflects on current consumer experiences and provides insight into consumer intent. 
Marketers rather than relying on perceived or inferred information are directly asking consumers, who are intentionally and proactively sharing in return. 
Zero-party data is based on concepts of privacy and value.
Consumers are open to share personal data with brands when they receive better experiences. Brands must in exchange be transparent about how they collect and use the data.
Creating engaging experiences that build trust in the way consumer data is used is the best way to drive true personalisation. 
By taking the zero-party data path, marketers build direct relationships with consumers. As a result, marketers better personalise marketing communications and product recommendations.
Value exchange
When collecting zero-party data consumers need to be entertained, engaged, and receive something in return for their attention and personal data. Consumers provide zero-party data as a direct value exchange. 
To motivate consumers to intentionally and proactively share their data marketers can use incentive mechanics such as instant wins, exclusive offers, coupons, gifts, loyalty points, …
Successful zero-party data collection is based on interactive conversations and enables consumers to create their own experience while interacting with the brand.
For marketers to succeed they need to create experiences led by inspiring design and empowered by data and technology. 
Via interactive content (swipe survey, a personality test, game, playful poll or quiz) brands can collect zero-party data. 
For example with a "tinderesque" swipe survey we helped Central England Co-Op collect preferences and interests from their audience.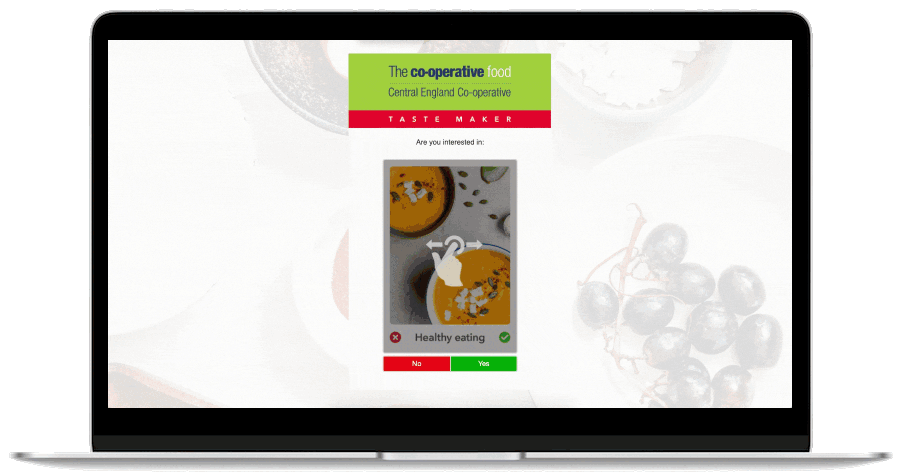 Together with Paperchase we implemented interactive personality profilers to collect insights from their customers.
By putting consumers in control marketers activate trust and create the most effective way to collect interests, intents and preferences.
With zero-party data, you can identify your highest value customers, develop one-to-one personalisation and maximise lifetime value of your customers. 
In summary
There is a general concern about data quality as inferred and observed data sources are not reliable.
A new type of data called zero-party data emerges. Data that is intentionally and proactively shared with a brand by consumers.
Thanks to zero-party data brands can increase customer satisfaction, improve loyalty, drive advocacy and generate revenue. 
Related Blogs:
Paperchase maximises Pay Day emails with Interactive Experiences
How is Central England Co-Op collecting data
Interactive Customer Profiler