Central England Co-Op uses an interactive "tinderesque" swipe survey to boost engagement and to collect customer preferences.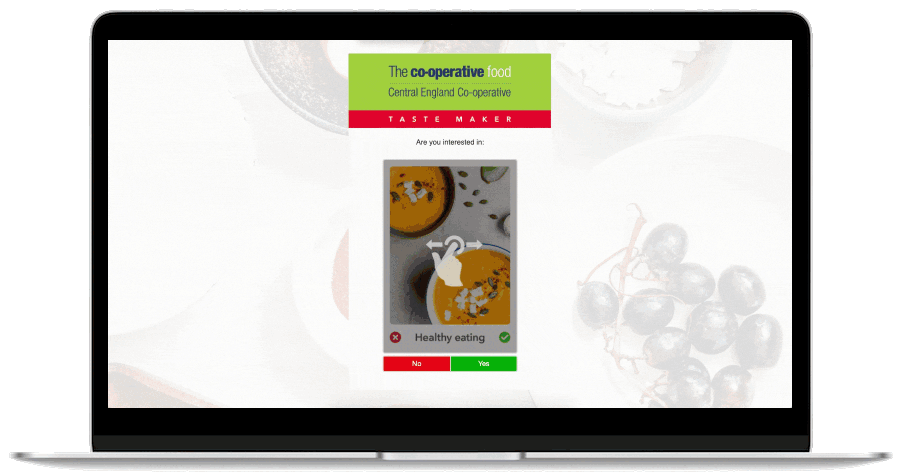 This swipe survey allows Central England Co-Op to build a direct relationship with their customers.
It helps them better personalise their marketing efforts, services, offers, and product recommendations.
As the results come directly from their customers, there are no intermediaries and no guesswork.
No spamming customers with ads for products they have already bought or do not intend to purchase.
The swipe survey running behind an email marketing campaign drove a 28% Click Through Rate with a 20% of surveyed customers sharing their preferences. The swipe survey is a great experience to boost engagement.
Customer preferences are then directly fired to their marketing automation platform. This enables the email marketing team to trigger personalised recommendations.
With the Odicci platform you can discover what customers intend to do or buy in the future. As the data collected is intentionally and proactively shared by customers.
Collecting customer motivations, intentions, interests and preferences at scale allows for a personalised customer experience.
To collect data required to improve personalisation, customers need to be entertained, engaged.
By leveraging the right mechanics customers will tell what products they desire, what they look for in a service, and what motivates them to purchase.
This type of data is zero party data. Zero party data is collected directly from customers. And not by using tracking pixels, cookies or cross-device identification.
As a result zero party data is accurate information, not inferred.
Related Blog Posts:
Interactive Customer Profiler
DATA CAPTURE ENHANCED SCRIBBLER'S ENGAGEMENT!